Working with schools and colleges
We believe that our academic excellence is a reflection of our open and welcoming academic community. Whatever your background, we think that you could feel at home at Hertford; this is somewhere to fulfil your potential and realise your ambitions.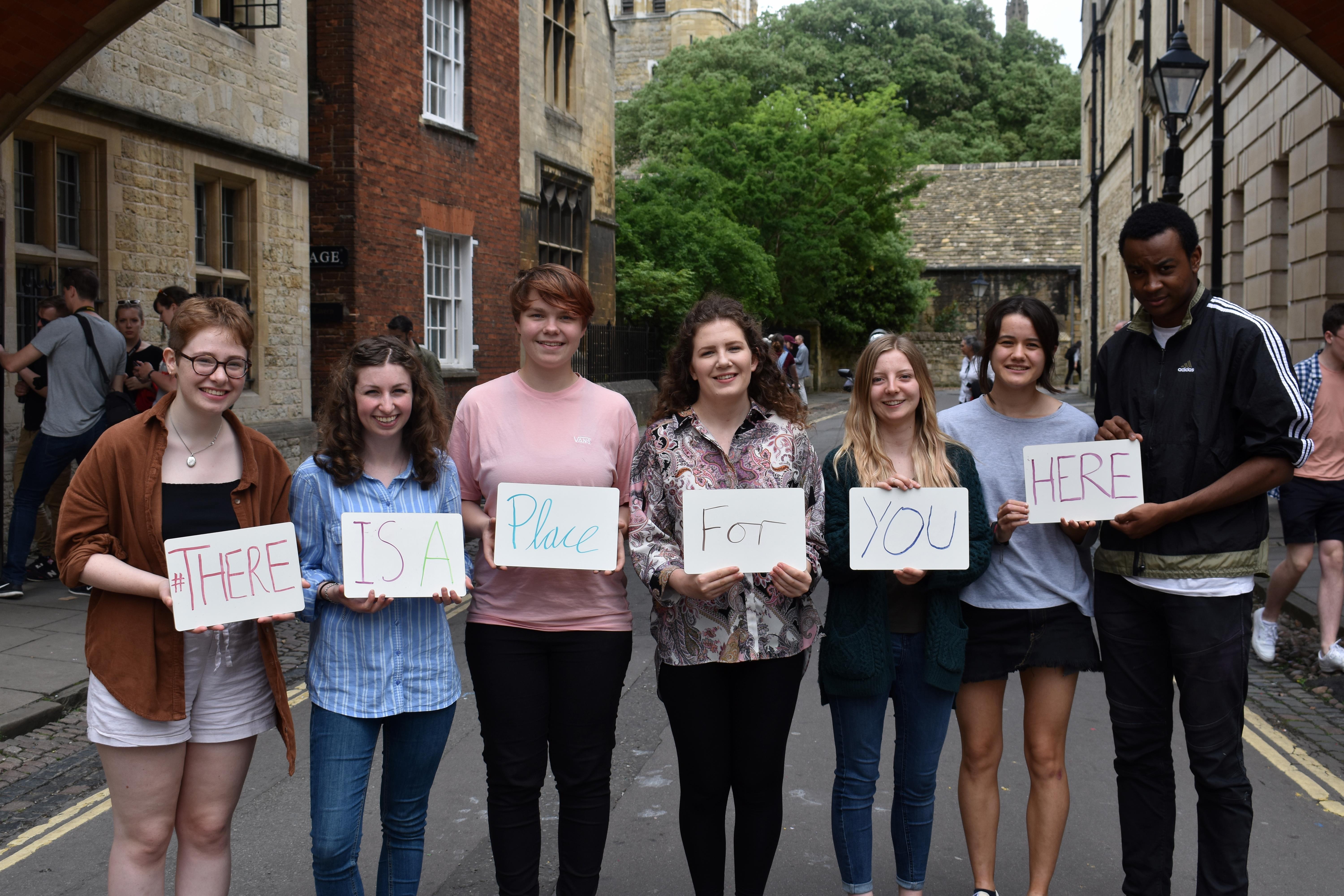 We have a long-standing commitment to widening participation in higher education and a well-established policy of open access. We are proud that we were one of the first all-male colleges to admit women in the 1970s. And we're proud that we took the lead in withdrawing from the entrance examination system that disadvantaged applicants from the state sector through the revolutionary Tanner scheme. Today, we have a diverse and vibrant undergraduate community, most of whom come from UK state schools, and we proudly support the University of Oxford's outreach initiatives, including the new Opportunity Oxford scheme.
We are determined to build on this tradition of fairness and equal opportunity. Our Outreach & Communications Officer, Nathan Stazicker, and STEM Outreach Officer, Dr Kathryn Boast, manage the day-to-day running of our outreach programme, working closely with teachers and students from state schools.
Nathan and Kathryn work under the guidance of our Registrar & Director of Admissions and our Senior Tutor to encourage students from all backgrounds to apply to Hertford. They're supported by over fifty undergraduate Student Ambassadors and volunteers from our graduate community, who play a significant role in encouraging potential applicants through sharing their personal experiences.
Essex, Southend-on-Sea, Medway and Camden

Oxford University has developed a programme of 'link colleges' to simplify communication between UK schools and the University. Hertford has special responsibility for Essex, Southend-on-Sea, Medway and the London Borough of Camden. We aim to build and maintain close relationships with all schools in our linked areas.

We also have links with schools all over the country through our current students, alumni, staff and fellows. We welcome approaches from any school that feels that Hertford would be a sympathetic environment for its students.

Online resources for students and teachers

It's a good idea to explore the subject you're interested in beyond your school or college curriculum, deepening your knowledge and engagement and preparing you for university-level study. We call this kind of academic exploration super-curricular enrichment. The best kind of super-curricular activity is usually reading around your subject, in books, journals and newspapers. But there are lots of other ways you can engage with challenging ideas – listening to lectures and podcasts on Apple Podcasts or BBC Sounds, exploring big ideas with Oxplore, or exploring the reading material suggested on Staircase 12 from University College, Oxford.

There are lots of ways to find out more about life at Oxford University – from specific courses to online resources. You can find out more about experiencing Oxford before applying and about our diverse student societies below:

Oxford African and Caribbean Society

Opportunity Oxford

We're delighted to support Oxford University's Opportunity Oxford scheme. From 2020-entry, this new access programme will have up to 60 places available across a range of subjects for UK students who might not have expected or realised that they might qualify for a place to study here. To be eligible, you will be on track to meet the academic requirements of your chosen Oxford course but will not have received lots of support with your studies and will come from a less advantaged background. All you have to do is apply to Oxford through UCAS in the normal way. If you are eligible, you will automatically be considered for a place on Opportunity Oxford.

Opportunity Oxford aims to prepare academically-talented students like you for university – so that you can make the most of your abilities and enjoy your studies. Following a welcome event in the summer, you will be expected to complete the equivalent of two weeks in-depth academic tasks in your subject during July and August. You can do this work from home. All necessary materials will be provided online and you will have access to online support. All those whose exam results (A-level or equivalent) meet the academic requirements of their Oxford course will then progress to a residential course. Taking place in September, this will be a free two week academic programme here in Oxford, before your first term begins in October. This programme will introduce you to lectures, tutorials and hopefully give you the chance to make some new friends. Opportunity Oxford means you can begin your studies with confidence and with the knowledge that you can enjoy life at Oxford.