Open Days
We look forward to welcoming you to one of the 2018 University Open Days. Our next Open Day will be held on Friday 14 September.
This is your opportunity to visit both departments and colleges, to find out more about your chosen degree, and to meet current students and tutors and ask any questions you may have about the application process, course content and student life.
For information on which colleges offer your subject, click here.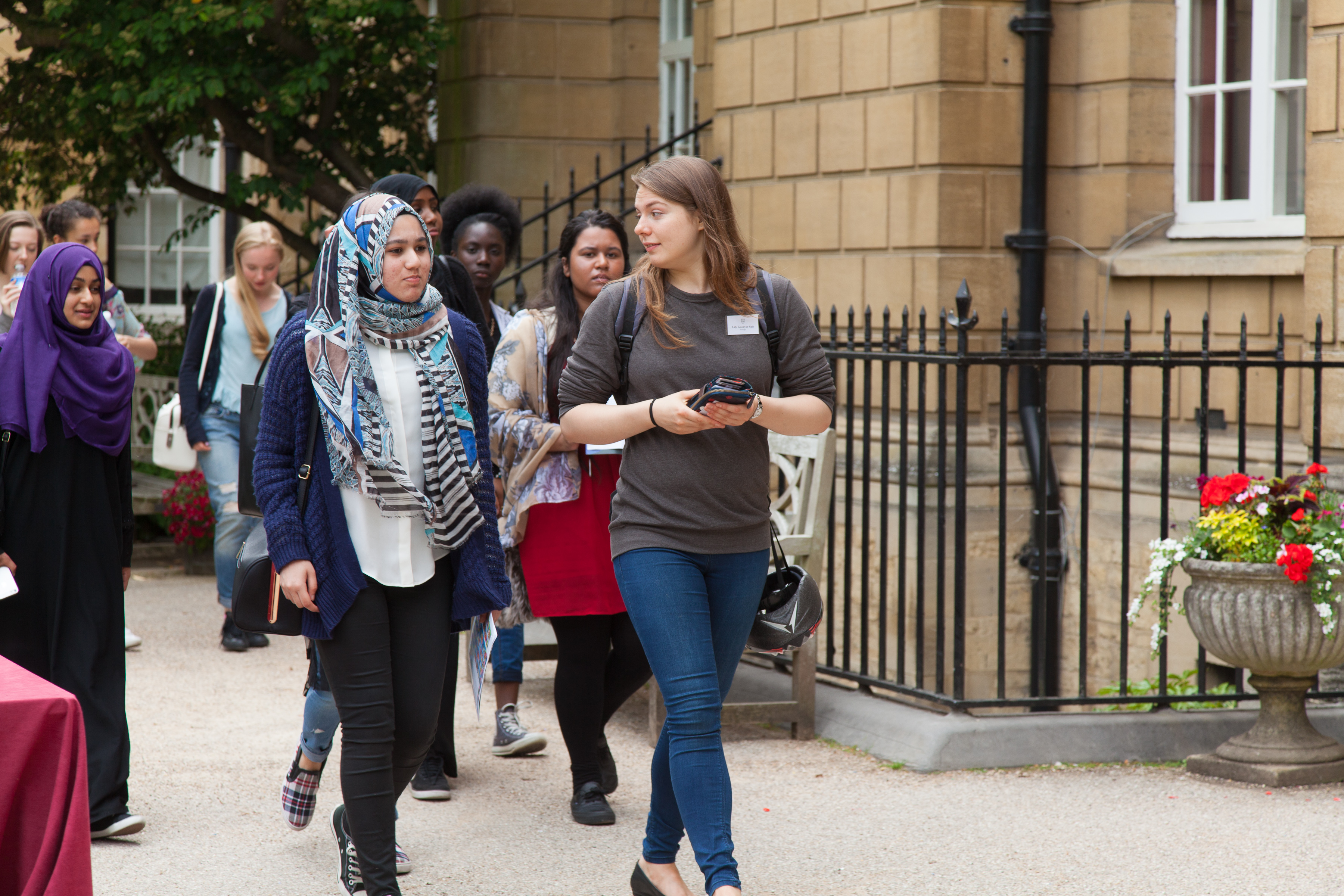 What Hertford offers on an Open Day
The college will be open to visitors from 10.00am to 5.00pm and there is no need to book for any activity, just come into the Quad from Catte Street and you will be welcomed by one of our admissions team. There will be students on hand to take you on a tour of the college and talk to you about their own personal experience of being at Oxford and specifically Hertford.
You will get the opportunity to see the college Library, the dining hall, student accommodation, the bar, the JCR (Junior Common Room) and of course you will be able to walk over our famous bridge.  You will also be able to enjoy lunch in the dining hall, free of charge (tickets are handed out to visitors on a first come, first served basis). Tea and coffee will also be available throughout the day.
If you have any further queries regarding the Open Day, please contact Lisa Hartwright, our Admissions Officer on undergraduate.admissions@hertford.ox.ac.uk.
We very much look forward to meeting you.
Open Day events
In addition to college tours, there will be various sessions/talks that you can attend:
Hertford Tutors will give subject-specific talks and answer questions on each of the subject areas that we offer.
Lynn Featherstone, our Registrar & Director of Admissions, and Nathan Stazicker, our Outreach Officer will give a talk on Oxford Admissions.
While subject talks are taking place, parents and carers will be able to attend a Q&A, led by Lynn Featherstone, our Registrar & Director of Admissions. Here you can ask questions regarding the application process, fees and funding, welfare and all other aspects of student life.
Open Day accommodation

Hertford offers free bed and breakfast accommodation to visitors.  Rooms are only available on Tuesday 26 June, Wednesday 27 June and Thursday 13 September for individuals or for school groups (up to seven including one accompanying adult).  All rooms are single occupancy and unfortunately due to demand, we are only able to offer one night's accommodation.

Bookings for accommodation on Tuesday 26 June and Wednesday 27 June are now closed.

Getting here

Travel advice can be found here. We strongly recommend that you do not travel by car wherever possible, as on Open Days even the park and ride car parks can often be full very early in the morning.

Schedule of events at Hertford

08:45 – 09:15 Why choose Oxford? Why choose Hertford?  A talk for visitors who have stayed in college overnight given by Nathan Stazicker, our Outreach Officer.

10:00 – 17:00 College is open to visitors

Drop-in tours available all day
Admissions team and current students available to answer questions
Subject-specific material available
First-year accommodation available for viewings

12.00–1.30 Lunch in Hall for Open Day visitors (First come first served; get a ticket from us on the day)

12:30 – 13:00  Subject talks for:

Archaeology and Anthropology
Biology
Law
Mathematics
Modern Languages
Music
Philosophy, Politics and Economics
Physics

13:00 – 13:30 Subject talks for:

Biochemistry
Computer Science
Geography
Human Sciences
Medicine
Oriental Studies

13:15 – 13:45 Subject talks for:

Chemistry
Computer Science and Philosophy
Economics and Management
Engineering
English
History
Philosophy and Joint Schools

12:45 – 13:15 Information Q&A for Parents and Carers.  A talk given by Lynn Featherstone, Registrar and Director of Admissions

14:00 – 14:30 Why choose Oxford? Why choose Hertford? A talk given by Nathan Stazicker, Outreach Officer