Living at Hertford
We're well-known for being a friendly college and everyone here will do their best to help you feel at home.
Even before you arrive, you'll receive a letter from your college 'mum' or 'dad', as all visiting students are included in the college 'family' system – which is similar to the 'buddy' systems in many US universities. Right from the beginning you'll have students in college to look out for you.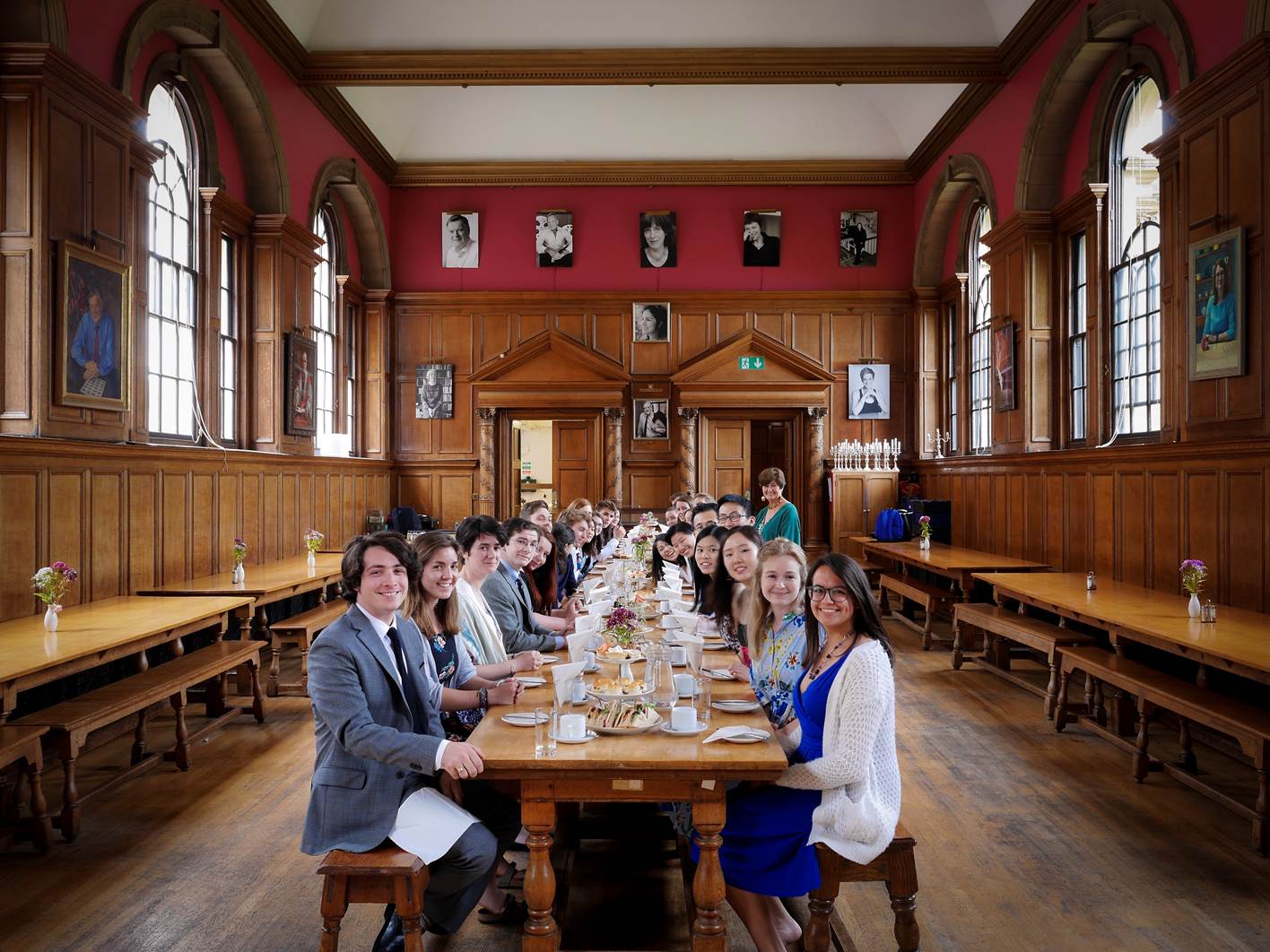 Accommodation
When you come to Oxford you'll be in your second or third year of university, so we house you at our south Oxford site where our own second and third year students live. Here, at Warnock House or Abingdon House, you'll be living alongside students with whom you'll have the most in common, both socially and academically. All our rooms are for single occupancy, so you will not have to share with another student. Our student rooms are comfortable and all include internet and WiFi access. You'll have your own wash basin in your room, and be able to share bathroom and kitchen facilities.
Abingdon House has a welcoming common room where you can hang out and socialise with our students. Warnock House has its own dining hall – open to all Hertford students – which serves hearty breakfasts and delicious suppers. It's an ideal place to get to know our second and third year students.
The site is right next to the famous River Thames (perfect if you enjoy jogging or want to join our rowing club) and the ten minute walk to Hertford's Catte Street main campus takes you past some of Oxford's landmark sites. There's the peaceful Christ Church Meadow with grazing longhorn cattle, the medieval cobbled Merton Street, the University Church of St Mary the Virgin, and the iconic Radcliffe Camera (part of the Bodleian Library).
What will be provided in my room?

All rooms come with Wi-Fi internet access, furniture and a wash basin. We'll also provide you with two sets of bedding, a single duvet, two pillows, two sets of bath and hand towels, and a spare blanket. We ask you to do your own laundry, and you can use our onsite laundry facilities. In your shared kitchen, there will be cooking utensils (pots, pans, knives etc.) which you can use.
Food
You can eat at Warnock House or in our historic college dining hall. The food is varied, delicious and filling, as well as being affordable as all meals are subsidised. You can find out more on the 'eating here' page. Many of our visiting students particularly enjoy the twice-weekly formal dinners in the hall – at these you get the chance to dress up and taste the delicious food prepared by our talented chefs. If you're here in the autumn term, you'll also be able to enjoy our Thanksgiving Dinner, where we invite our visiting students for a three-course special meal in the hall, preceded by drinks with our Principal in the elegant Principal's Drawing Room.
Can you cater for my dietary requirements?

Please let us know in advance if you have any special dietary requirements, and we will do our best to accommodate your needs. There is always a vegetarian or vegan option at meals, and our chicken and lamb is Halal as standard. Unfortunately, we are unable to provide Kosher meals. If you have any concerns about this, please contact the Director of the Visiting Student Programme.
Social life
When you arrive at Hertford you'll be welcomed by students from our undergraduate and postgraduate common rooms, the JCR and the MCR. Both friendly common rooms encourage you to 'do what you love' and have many activities and regular social events on offer – 'bops' (fancy dress parties), jazz nights, comedy nights and film nights. These are great opportunities to have fun and make new friends.
Welfare
'Welfare' is a word we use in Oxford to mean student wellbeing. There's a dedicated team of students and professionals at Hertford to ensure that your study abroad experience runs smoothly. We recognise that it's not always easy getting used to a different academic system and that being far from home immersed in a different culture can be difficult at times. The Director of the Visiting Student Programme will act as both your Director of Studies and your Personal Tutor. You'll have regular meetings with her throughout the term to discuss how your work is going and to give you the opportunity to talk through any worries or difficulties you might be having.
When you arrive in Oxford you'll be met by one of our regular undergraduate students to help you settle into your room and show you around on your first evening. We value the warmth and friendship of these students, who'll do their best to make you feel at home. During your orientation, you'll meet our college welfare team so that you'll know where to go if you need help. The team is made up of our Welfare Coordinator, College Nurse, Chaplain, Dean, Registrar and student Welfare Reps – you can find out more about the support they can offer on the 'help is on hand' page.
Frequently asked questions
What can I do during the vacation?

Most of our visiting students tend to travel during the vacations, exploring Europe or flying back home to see family. Accommodation during the vacations is not included in your programme, however you can request to stay at Hertford at an extra charge per night. This vacation residence is not guaranteed, but is usually possible.

What's the weather like and what clothes should I bring?

The weather during Michaelmas is normally cold and rainy – sometimes it even snows lightly. Thick, warm and waterproof clothing is essential. The weather during Hilary term tends to be similar to Michaelmas, getting warmer and dryer towards the end of March. This means it's best  to have clothes which you can layer. For Trinity term at the start of April, we tend to have more sunny days. By May or June the sun is out most days and it can be very warm. You should also have formal clothes for events, such as smart trousers, jacket and tie or an evening dress and formal shoes. There are plenty of shops nearby in Oxford, so if you can't bring everything with you don't worry!

How do I get to Oxford and how far away is London?

Oxford is a small city of around 170,000 people, located 50 miles north-west from London. Oxford train station is to the west of the city centre and is about a 15 minute walk from Hertford. Trains to Oxford can be caught from London Paddington and London Marylebone stations and take around an hour. It can take between one and a half and three hours to travel between London and Oxford on a bus or coach, but these services run very regularly 24/7 and 365 days a year. There are also buses which directly connect Oxford with Gatwick and Heathrow airports.