International Programmes Department
Academic English and British Culture
Hertford College International Programmes Team offers a variety of academic programmes designed to support and advance students' English language skills.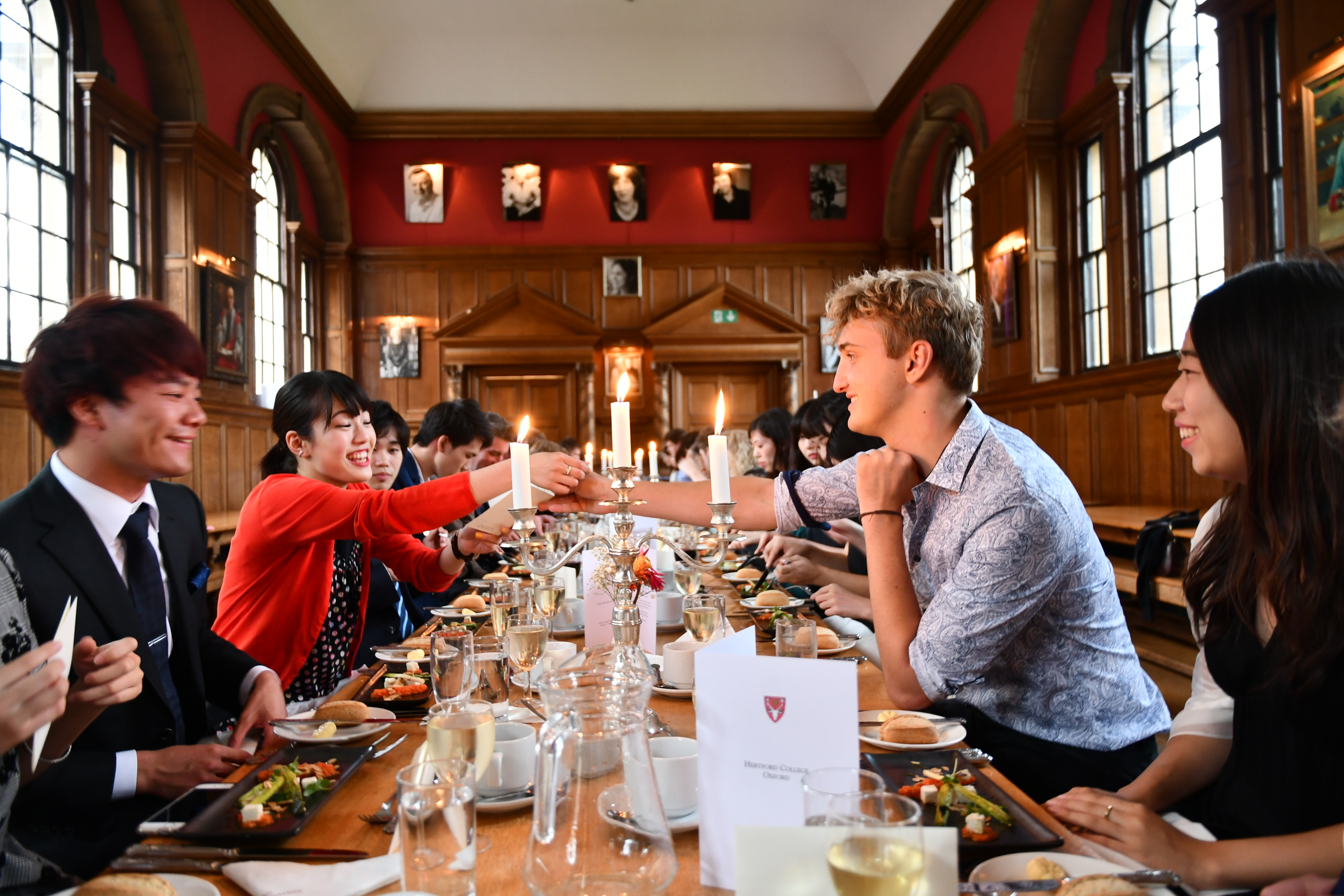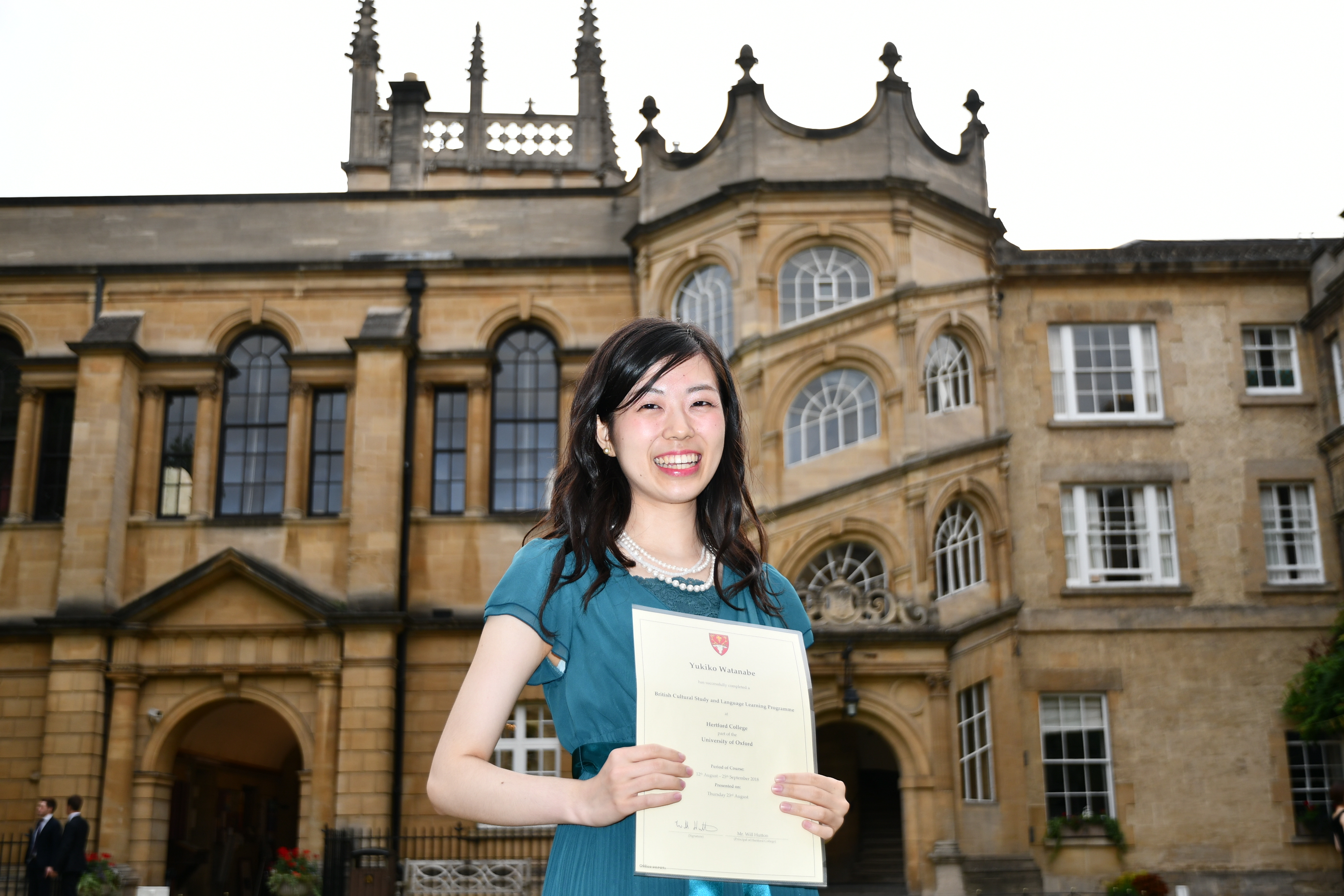 We offer classes, workshops and lectures led by experienced teachers. Our aim is to offer communicative and engaging classes based on interesting themes and valuable skills.
Our academic programmes are all bespoke. We pride ourselves on cultivating close links with our partner universities, listening to our clients and designing tailor made courses to suit the specific needs and interests of our students. We find that by visiting universities on regular marketing trips, we are able to understand cultural differences and systems which help us to prepare a suitable learning experience, of the highest standard, at Hertford College.
The length of our programmes can vary. Courses run from two to four weeks.
Classes usually run over four consecutive teaching days and the week concludes with a study tour. Popular destinations include London, Bath, Stonehenge and Stratford-upon-Avon. Our teachers prepare the students for the trip by delivering a pre-visit lecture. This lecture introduces historical facts, points of interest and hidden gems. The students are accompanied on the study tour by their RAs (Residential Advisors) who are available to answer questions and guide the students around the sites in a warm, informative and professional manner.
Some of our partner universities award their own credits for our programmes. Hertford College and Oxford University are unable to offer credits directly. All of our students are presented with a certificate at the formal Gala Dinner drinks reception at the end of the programme and we can also offer a short report for each student, upon request.
Student testimonials
I was moved by Blenheim Palace. The picture on the ceiling was super intense!
Student from Otsuma University, Japan. Cotswolds and Blenheim Study Visit, summer 2018
The best part was the fashion museum. I tried British traditional dresses in the museum and learned lots of knowledge
Student from Waseda University, Japan. Bath Study Visit. Summer 2018
Meet some of our teachers
Dr Emma Curry

I've taught at Hertford College since 2010. I love teaching here because students always bring such enthusiasm and passion to our lessons. We've had some wonderful experiences in class over the years. I also love listening to the student presentations at the end of the courses: it's fascinating to learn more about our students' hobbies and passions and it's so rewarding to see how they've grown in confidence in using the language during their time with us.

Jenny Owens

I have been working at Hertford College since 2014. During this time I have had the pleasure of teaching many students from different universities. Each group of students is unique and I really enjoy getting to know them and working with them to achieve their course objectives. It is very rewarding to see students leave Oxford feeling more confident in their ability to communicate effectively in English. Hertford College is a very special place to work and study. There is a lovely atmosphere in the college and it is a place where many happy moments are created and shared.

Melanie Hussey

I first began teaching on the Hertford College International Programmes in 2011 and it has expanded considerably since then. It isn't surprising as the core value at the heart of the programmes hasn't changed: that the students and teachers and whole staff come together in a warm and supportive environment so that everyone is motivated both to give and achieve their best. Perhaps the most remarkable thing is that year on year I have been struck by the helpfulness and constructive advice of fellow colleagues and the enthusiasm and good humour of the students.

On the Combined Universities course I have been able to liaise with some of the course leaders and they have always made a positive contribution with unwavering enthusiasm. Indeed, without Professor Obari's detailed knowledge of Oxford, I would never have discovered a wonderful Pre-Raphaelite painting in Keble College!

Chris Bray

I've been coming to Hertford since 2013, drawn back each year by the pleasure of working in such an endlessly fascinating city (there are always hidden corners to discover) with friendly, knowledgeable colleagues and motivated students. The college itself is a busy but relaxed place, and the IP department, in which the EFL teachers work, very much shares the informal but highly professional ethos that pervades Hertford.

I like the fact that the DoS team remains stable: year after
year the same cheery faces greet returning staff and welcome newcomers. However great their workload, they always manage to make time to advise, inform and encourage with good humour and endless patience. I've learnt a huge amount about Chinese and Japanese culture and people from the high-school and university groups we get each year. Overall, the students have been among the most rewarding, enthusiastic and appreciative that I've worked with – polite, lively and inventive. Invariably, they enjoy their time here and want to come back (just as I do!).

Hayley Lennard

I have taught at Hertford College for many years and continue to return each summer, always excited to work with a range of international students. We are very fortunate to have a team of wonderful teachers, deeply committed to offering the best possible learning experience for our visiting students.

I have experienced many different learning needs from our students. Most are serious about developing their confidence in speaking but also, for others, the richness of British culture and heritage is an unforgettable, life – changing experience. My teaching background is varied, beginning with a teaching qualification in English Language and then completing a post graduate qualification in Humanities teaching. I have worked as a teacher in both state and private education in the UK, mostly in Oxfordshire. I have also taught English and Humanities subjects abroad at International Schools for just under eight years. I have also gained a masters and teach in primary education and specialise in developing literacy skills and story writing in younger students.

Oxford has been my home for many years and has shaped who I am both as a teacher, but also as a person. Oxford has been a place which has stimulated the imaginations of many great writers and poets and I am deeply inspired by their words. I have a deep fondness of Oxford's unique history and landscape and my intention, as a teacher, is to share it with each and every student I meet.

Shona Eason Gibson

I have taught on the Hertford International Programmes for the past five years with students from Taiwan, Japan and China. Having lived in many countries, teaching students from all continents, I thoroughly enjoy being with focused, committed, and enthusiastic students who come to Oxford to take part in well-organised, interesting and entertaining programmes, which give students the opportunity to put their knowledge into practice, and produce confident spoken presentations in front of their peers. To see their understanding increase, to hear their opinions expressed, and the results at the end of the courses is of great satisfaction and joy to me, as a teacher.

I thoroughly recommend coming to Oxford, and Hertford, if you wish to take your English to the next level in a supportive, professional, and fun environment.