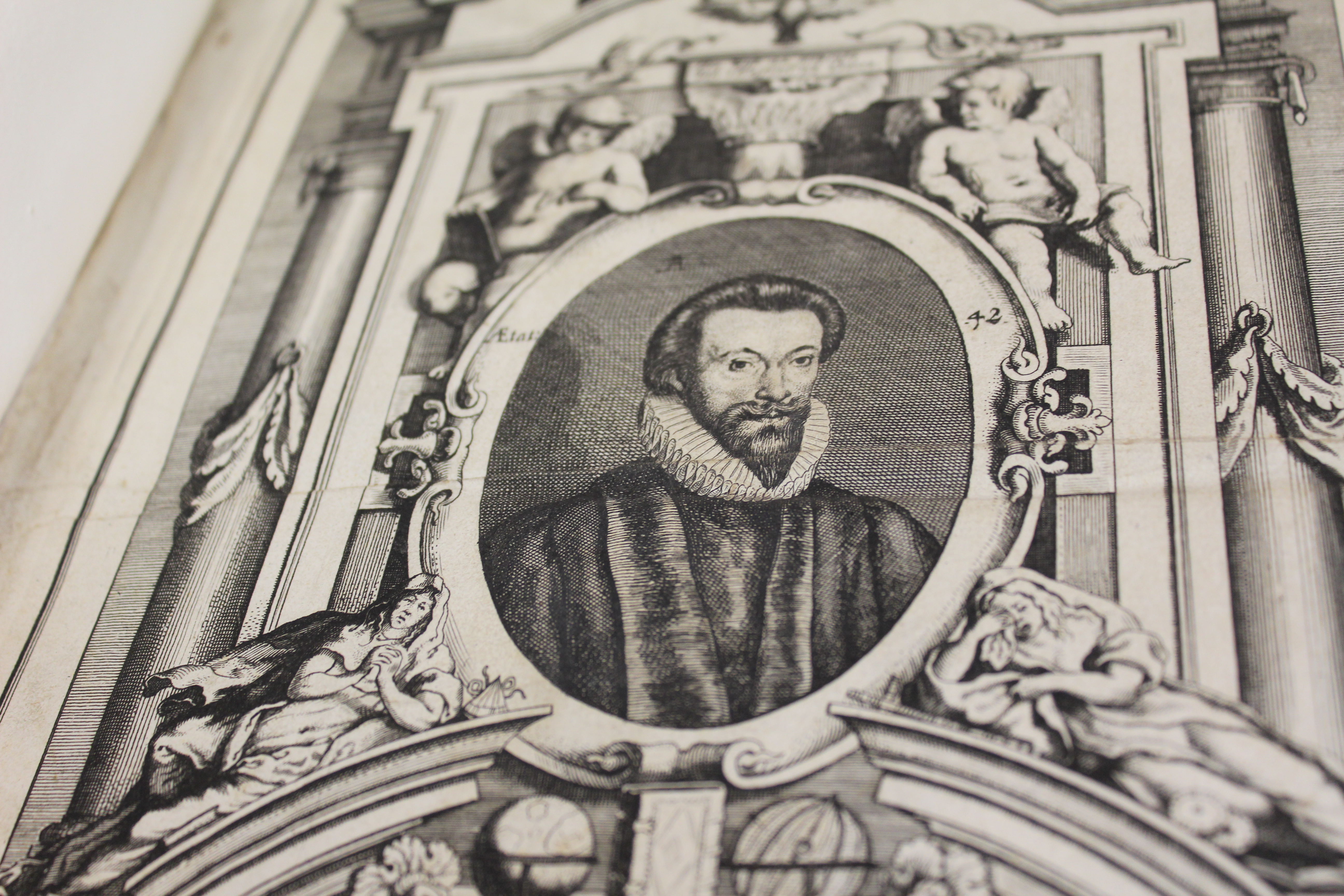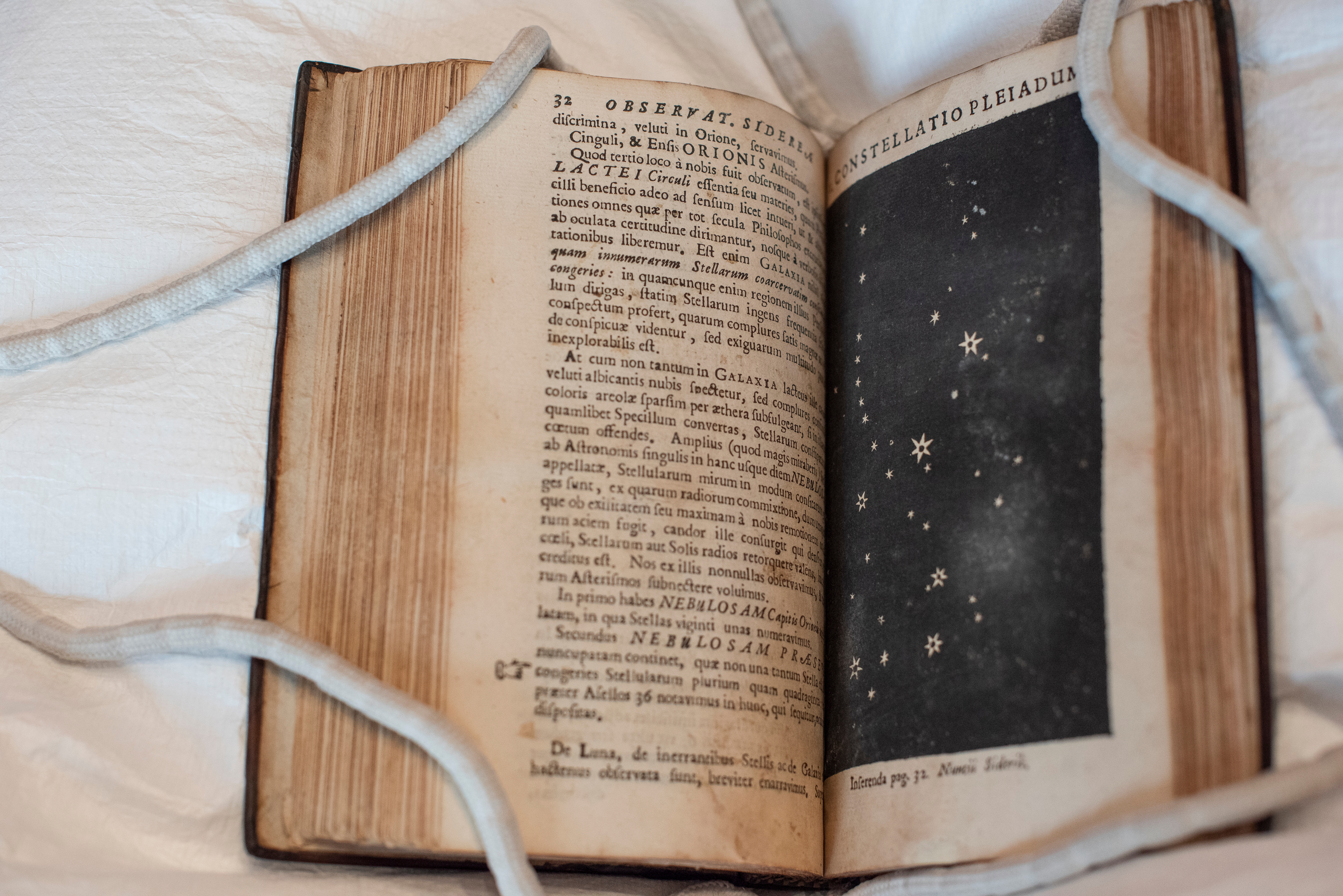 Thank you for visiting the Hertford College rare books webpages. Due to the coronavirus outbreak, the college's rare books collection is closed to visitors until further notice. The Librarian is working from home and can be contacted on library@hertford.ox.ac.uk. Alternatively you can leave a voicemail message on 01865 279409. We will do our best to answer any enquiries remotely.
Our historic library collection
Hertford Library's historic collection includes books from the 15th century onwards, including a small number incunabula – which means books printed before 1501 in Europe. The majority of our antiquarian collection dates from the seventeenth and eighteenth century and comes from the Library of Magdalen Hall, Hertford College's predecessor. Henry Wilkinson, Magdalen Hall's principal in the 1650s, funded the building of a library and encouraged donations of books and money to build the collection. We still have the benefactors book that recorded these gifts and can match the entries to items in the collection.
Our collection represents a wide array of academic subjects, with strong sections on geography, history and philosophy. However, we also have many theological, grammatical, linguistic, astronomical, scientific and medical works.
Our catalogue
A small amount of our collection is catalogued online in the English Short Title Catalogue and in the Oxford libraries catalogue SOLO.  At the moment we are creating a basic electronic version of our printed catalogue. This will allow us to manage and research the collection more effectively in preparation for creating out full level online records with copy specific notes. A detailed online catalogue of our material would permit researchers from across the world to discover what we hold.
Who can use our collection?
Our collection is open by appointment to researchers and students. To make an appointment please contact the Librarian via email or by calling 01865 279409.
We organise regular themed displays using works from the Library and our collections are used by Hertford's own students and staff in teaching and for individual research.
How do we care for our collection?
We have a dedicated team of volunteers from The Arts Society (previously known as NADFAS), who visit the Library each week to clean and conserve the collection. Our team carry out minor repairs and record all treatment given to books.
Thanks to our generous donors, we're able to send a small number of items for professional conservation and repair each year.
Rare books conservation
In 2015, three of Hertford's rare books were sent out for professional conservation by James and Stuart Brockman Ltd, Bookbinders. After many hours of painstaking expert repair, the books have returned to Hertford and can now be used in research and exhibitions. We are extremely grateful to our donors for funding this conservation work, which cost £2000.
Hortus Sanitatis (1517)
Our 1517 Hortus Sanitatis had split in two, with the front cover and front section of the book entirely separate from the main text. Since its return, it has already been used in a special display on library provenance. The Latin language herbal, which contains information about plants, animals and minerals, contains unusual English marginalia from the 1580s.
Robert Hooke, Micrographia (London, 1665)
Hooke's Micrographia, which uses microscopy to examine in beautiful detail the world around us, was also in need of conservation. It had a detached front cover which made it susceptible to further damage when handled. Following its restoration, it was used in our special display for Hertford's donors.
Thucydides, Eight Bookes of the Peloponnesian Warre…interpreted… by T. Hobbes (London, 1629)
Another gem in our collection needing repair was our English translation of Thucydides' Eight Books of the Peloponnesian War. Translated and illustrated by Hertford alumnus Thomas Hobbes, this is the first published direct translation from Greek into English. The leather cover was crumbling and the opening pages torn. This book is one of our most popular items with undergraduate students, particularly those studying theories of politics.
Find out more