International Programmes Department
Open Enrolment Programmes
After a hugely successful delivery of Open Enrolment programmes in previous years, the International Programmes team is delighted to be running both our July and August Open Enrolment programmes in Summer 2023.
Apply now! Applications for Summer 2023 Open Enrolment programmes are now open.
Programme 1 (July): Sunday 16th July – Saturday 5th August 2023
Programme 2 (August): Sunday 6th August – Saturday 26th August 2023
Complete an Online Application Form and return it to us by the deadline of Friday 5th May 2023. Please ensure that you have read and agreed to the terms and conditions below before submitting your application form.
Since 2016, the Hertford College Open Enrolment programme has provided EFL students with a unique chance to learn about UK culture and enhance their language skills while residing within our beautiful and historic college.
Students on the Open Programme come from all over the world, from different universities and academic disciplines.  Since the programme started, we have welcomed students from China, Taiwan, Bangladesh, Malaysia, the United Arab Emirates and Japan.  This provides a truly diverse cultural backdrop to the programme; where working collaboratively, exchanging ideas in English and living and socialising alongside one another is actively encouraged.
During the programme, students will have the chance to engage with a wealth of topics regarding life in Britain, including youth culture, literature, food, music, film, social media and current affairs. There are also sessions aimed at utilising English in creative and engaging ways; through debate, drama and creative writing.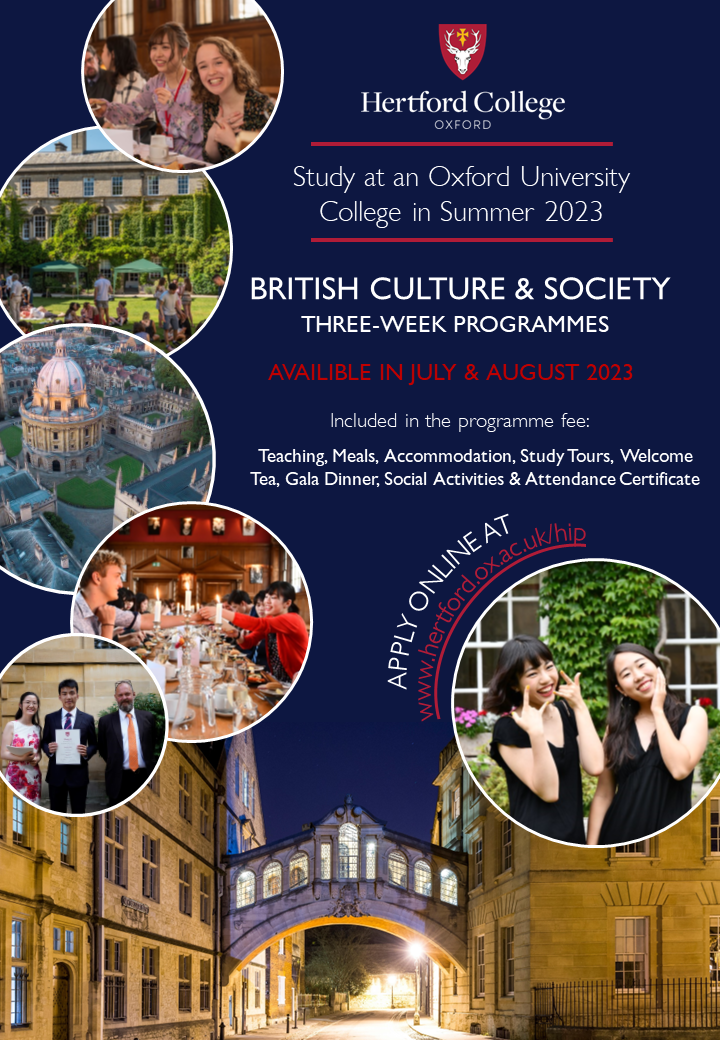 Study Tour and Residential Advisors
The programme also includes a study tour to London where students will visit two world-famous museums (the British Museum and National Gallery) as well as some of the UK's most iconic buildings such as Big Ben and Buckingham Palace.
Outside of class time, students on the Open Enrolment programme will benefit from the support and knowledge of their Residential Advisers (RAs).  The RAs welcome students upon arrival at Hertford, provide an array of daily social activities, help students to practice their speaking skills in English and give a true impression of student life in Oxford.
Our teachers
Our teachers are all highly experienced in teaching IELTS, TOEFL and TOIEC and employ a fully immersive, communicative approach to English learning.  Our teachers, RAs and office staff are a highly international team who are deeply passionate about the importance of study abroad, and knowledgeable of  the challenges it entails, both linguistically and culturally.  Participants on our programmes can therefore be confident that both their academic and personal needs will be met during their time at Hertford by our caring and professional team.
Student testimonial
I remembered the first day when I met my RAs. It was a raining day, same as my image of England. I carried my big luggage on the road and finally we found Hertford College. The RAs greeted us with the most warmhearted welcome; it felt like we were coming back to Hertford College, not visitors coming for the first time. During the next few weeks, I tried everything that our RAs suggested on the 'Whiteboard' with my new friend, and it was the most correct thing I've ever done! I felt so lucky that my RAs were such a group of nice people. They brought us to try everything we asked such as punting, going to the deer park in Magdalen College and eating the ice-cream at G&D's! With the best RAs it really made my journey in Oxford become more fantastic. I also made a lot of good friends during the programme. We learned something new about this country in the daytime classes and then we shared the feelings of what we've learned at night in the common room. Those nights became the most irreplaceable and treasured time in my life!
Ting-Hsuan Wang, Open Enrolment Student, Summer 2019