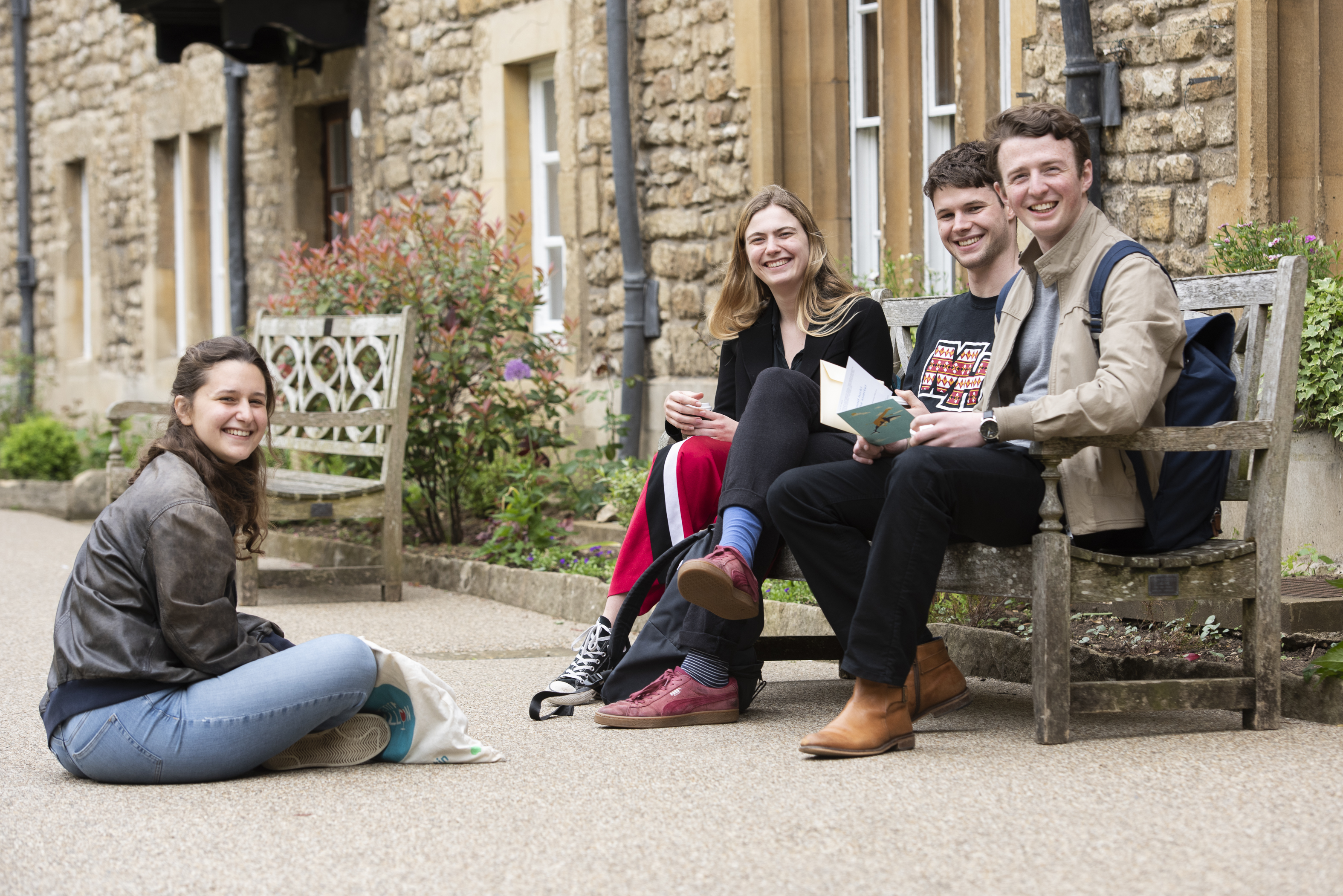 Our Welfare team is a key part of college life, and is made up of the Dean, Welfare Coordinator, College Nurse, Registrar, Chaplain and three Junior Deans. We're always on hand, meaning that any student is welcome to contact us at any time.
Yo Davies, the Welfare Coordinator, is the first point of contact for any students experiencing welfare issues, and hold regular 'open door' drop-in appointments during term time. She is a trained Cognitive Behavioural Therapist and can provide specific support for any student experiencing mental health difficulties.
Professor Alison Woollard, a college fellow and Dean, has overall responsibility for managing our welfare provision. The Reverend Mia Smith is our Chaplain and is able to offer confidential discussion and support for both students and staff. The College Nurse, Alison Nicholls, holds regular hours in college and can offer medical advice, as well as quickly referring you to the doctor if necessary.
We have three Junior Deans who are graduate students at the University and live in each of our accommodation areas. They have responsibility for welfare in different parts of the college site and are able to listen and provide support to all students. In particular, they can quickly deal with the need for noise reduction in your accommodation.
Our Welfare team meets every two weeks during term time to discuss student welfare issues and work together – within the bounds of the University's confidentiality guidelines – to ensure that if you're experiencing any kind of health or wellbeing issue we can offer you appropriate help and support. The Welfare Reps from the JCR (undergraduates) and MCR (graduates) come along to at least two meetings per term, ensuring that student voices and current issues are dealt with.
Hertford College support

Both the JCR and the MCR elect two student Welfare Reps every year to represent undergraduates and postgraduates. They are trained in peer support and offer support to their fellow students. They're a good first port of call for students with any worries or concerns.

At Hertford we have a team of student Peer Supporters – these students are trained in active listening skills and have regular supervisions. They can provide a confidential service to Hertford students and information about where to get further help. We also have trained First Responders who are available to help people who have been sexually assaulted.

Professor Emma Smith is our Tutor for Equality & Diversity and takes an overview of these matters at a policy level. Professor David Hopkin, our Senior Tutor, is also the college's Disability Lead with special responsibility for all matters relating to disabilities, while our Welfare Coordinator is also the Disability Coordinator – more information about disability support at Hertford can be found on our disabilities pages.

Oxford University support

Outside of college, the University offers lots of welfare and disability support.

Confidentiality

The right to privacy is enshrined in the Human Rights Act 1998. At Hertford we take this seriously. The University has a comprehensive policy relating to confidentiality for student health and welfare. You can find more information about these commitments in the Guidance on Confidentiality policy.